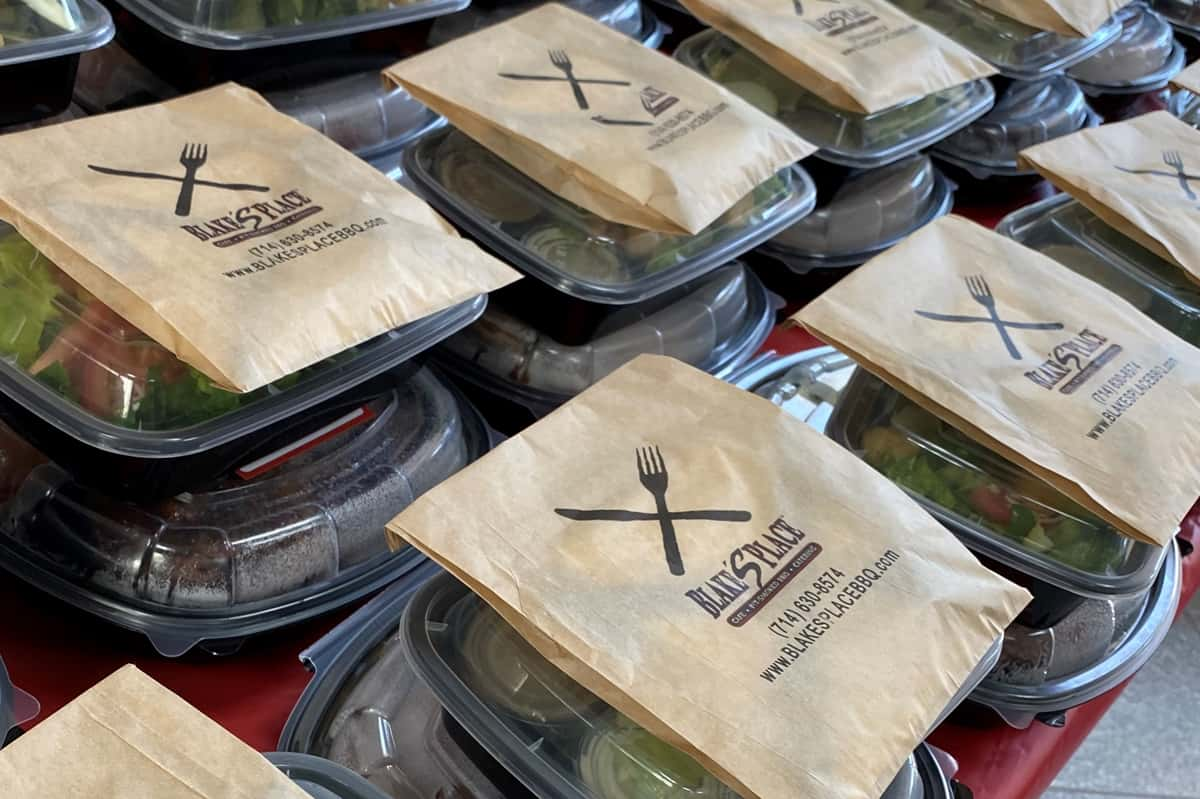 Catering
Individually Packaged Catering – Delivery – Buffet Service
Become a VIP
Receive updates on special events, new menu items, menu reviews, and more!
Individually Packaged Catering
Individually Packaged Catering
1 Entrée • $14.99 per person
2 Entrée • $17.98 per person
3 Entrée • $20.97 per person

Each individually packaged catering meal includes your choice of 2 side dishes, a fresh baked dinner roll with butter & individually packaged utensils. 
Add a Mixed Green OR Caesar Salad + $1.50 per person

15 person minimum
Same menu must be selected for all Individually Packaged Meals
ENTREE SELECTIONS...

Beef Brisket (sliced or chopped)
BBQ Chicken (on the bone)
Pulled BBQ Chicken
BBQ Chicken Breast (boneless, skinless)
Turkey Breast
Kielbasa Smoked Sausage
Pork Loin
Pulled Pork
Pork Spare Ribs
Baby Back Pork Ribs*
*(add $2.00 per person)
Smoked Salmon**
** (Additional charges apply)
SIDE DISH SELECTIONS...

Blake's BBQ Beans
Sweet Corn (off the cob)
Green Bean Almondine Style
Potatoes Au Gratin
Mashed Potatoes & Gravy
Garlic Mashed Potatoes
Rice Pilaf
Blake's Mac & Cheese
Cole Slaw
Cucumber Salad
Blake's Potato Salad
Tri Color Pasta Salad
ADDITIONAL CATERING PACKAGES & OPTIONS
Buffet Style Catering, Sandwich Catering, Desserts & Beverages
Service Options
Blake's Place Off-Site Catering Services
Already have your venue? Blake's will bring the BBQ to you! We can delivery right to your backyard, your office, your clients office or ANY destination of your choice. From Drop-Off to Full Service Buffet, Blake's Place Catering will provide the same professional and charming service that you've enjoyed in our café's for over 23 years.

Blake's Place Patio
Blake's Place Patio is the perfect place to celebrate your next event! Our patio seats up to 60 guests and is available for private events. Table service or buffet service available.
Become a VIP
Receive updates on special events, new menu items, menu reviews, and more!
Catering Menu
Pit Smoked BBQ Package
BBQ Packages starting at $14.99 per person
Our BBQ Package includes one entree selection, your choice of four Side Dishes, Cowboy Bread and Butter, BBQ Sauce and all of the Eating and Serving Utensils.
(includes plates, forks, knives, napkins, handi-wipes & serving utensils)

Prices are per person - 15 person minimum required.
Add $2.99 per additional entree selection.
Available for Pick Up, Delivery or Full Service Buffet (100 person minimum for full service buffet + 18% service charge)
BBQ Package Entree Choices
** additional charges apply
Additional Catering Packages
Beverages
Assorted Canned Drinks $1.25 ea (15 or more)
Bottled Water $1.25 ea. (15 or more)
Lemonade & Iced Tea Service** $1.50 per person
**full service buffet catering only
Complete Meals for Take Out
(feeds 4-5)
Available for Pick Up Only
Eating & Serving Utensils Available for $0.75 per person
Blake's Place Individually Packaged Catering
1 Entrée • $14.99 per person
2 Entrée • $17.98 per person
3 Entrée • $20.97 per person
(Add mixed Green OR Caesar Salad + $1.50 per person) 

Each individually packaged catering meal includes a fresh baked dinner roll with butter & individually packaged utensils.
15 person minimum
Entree Selections
** (Additional charges apply)
* (add $2.00 person)
**additional charges apply