Blake's Place / Coronavirus Disease 2019 (COVID-19)
••• UPDATE •••
May 20, 2020
Dear Friends and Family of Blake's Place,
First and foremost, I would like to thank our community and the Blake's Place Family for supporting us during this difficult and challenging time. We continue to follow CDC recommendations for your and our staff's health and safety.
Due to COVID-19 we are experiencing extreme shortages and a dramatic increase in pricing for Beef and Pork.
For Blake's Place to continue to use the best possible quality meats available we must temporarily increase the menu price for these items.
We apologize for this temporary inconvenience and appreciate your understanding.
Effective until further notice...
At this time Blake's Place will remain OPEN for TAKE-OUT, CURBSIDE SERVICE, DELIVERY and CATERING however we will be temporarily adjusting our café hours to minimize risk while still serving the needs of our loyal customers.
Saturday 11am – 8pm
Sunday 11am – 7pm
Monday 11am – 7pm
Tuesday 11am – 7pm
Wednesday 11am – 7pm
Thursday 11am – 7pm
Friday 11am – 8pm
Curbside service is available for pick up orders prepaid with your credit card. When ordering request "CURBSIDE". When you arrive in the parking lot and are no longer driving you will call again and let us know you're here and a staff member will bring your food and credit card receipt out to your vehicle.
Remember, Blake's Complete Meals for Take-Out are available for you to pick up and enjoy in the comfort of your home or office. In addition, individually packaged catering orders are available during this time to assist with social distancing.
Delivery service is currently available through Postmates and DoorDash. Please join our VIP Club to receive updates and offers.
I personally want to thank our staff, customers and the community for taking precautions to do what we can to control the spread of Coronavirus (COVID-19). Your patience and patronage is greatly appreciated.

Warmest regards,
Gene Hobel, Owner
As you are likely aware, the world health community continues to monitor closely the emergence of the SARS-CoV-2 virus and the disease it causes, named "coronavirus disease 2019" (COVID-19). COVID-19 is a respiratory virus and is spread through coughs, sneezes etc. by those who are sick. At this time, no one knows how severe this outbreak will be. Given this uncertainty, and the fact that the seasonal influenza (flu) virus is also widespread Blake's Place has taken precautions to prevent the spread of the disease at Blake's Place and also in the businesses and homes of those we serve. We are very aware of the concerns our customers may have when considering the possible spread of Coronavirus nationwide. The most important thing that you can do as an individual to prevent the spread of this virus is to wash your hands frequently, with soap, for at least 20 seconds (sing "Twinkle, Twinkle, Little Star" or "Happy Birthday to You" twice and you will hit the 20 second mark). If you are sick, stay home! And don't come back to work until you are fever-free for at least 24 hours. In addition to washing your hands, keep your work area clean (Clorox wipes are great), particularly phones, pens, or anything else that may get close to your face. When in areas that have a lot of traffic (doorknobs, light switches, toilet handles, etc. are examples of items touched by many), wash your hands or sanitize after contact. I'm sure your company is doing what they should to keep these areas sanitized, we sure are! Unfortunately, the COVID-19 is not the only thing going around that can make you sick this time of year. Using these suggestions will help to keep you well during the cold and flu season. With that in mind, if you are providing a buffet lunch for your staff, we suggest the following precautions: 1. Provide hand sanitizer for all personnel before they enter the buffet line. 2. Consider designating a few people to serve the food (fewer people handling the serving utensils) rather than having your guests serve themselves. 3. Provide gloves for the person(s) serving. 4. Have trash cans readily available so your guests can throw away their own plates, forks, cups, etc. 5. Wipe all solid surfaces (tables, etc.) with a disinfecting solution or wipe before the meeting starts after the meeting concludes. A second option for you to consider is to provide an individual "boxed" lunch for your employees. Blake's Place has individually Boxed Sandwich Meals and can provide individual Salads, or entire HOT MEALS, individually packaged for your staff so the concerns of the buffet meal can be avoided. Blake's Place Café & Catering is and always has been family-owned and operated. Our food is delicious, and our staff are both gracious and professional. We enjoy the close relationships we have built with so many of our loyal customers over the past 24 years. We will remain vigilant in our attention to your health, safety and a delicious BBQ meal at Blake's Place. And, although we all want to be vigilant, there is no reason to panic! With everyone aware and using caution, there is no reason to avoid restaurants, or eating meals prepared by others, especially since you know that company is taking the same precautions for your health as you are in this climate of concern over the Coronavirus.
Real BBQ at its Best
Blake's Place Café & Catering would like to say, "Thank You" to the over one million guests that have enjoyed the great food and exceptional service in our café and on catered events since our opening in 1996.

Located in Orange County, Blake's Place Café & Catering is committed to give the highest quality food and friendly service at a great value. Our high-tech wood burning barbecue pits enable us to smoke over 2,800 pounds; Beef Brisket, Baby Back & Pork Spare Ribs, Chicken, Turkey, Pork, Salmon, Yellowtail are a sample of the many foods that are slow cooked in a wood smoke atmosphere at a slow rate (up to 16 hours) to enhance flavor.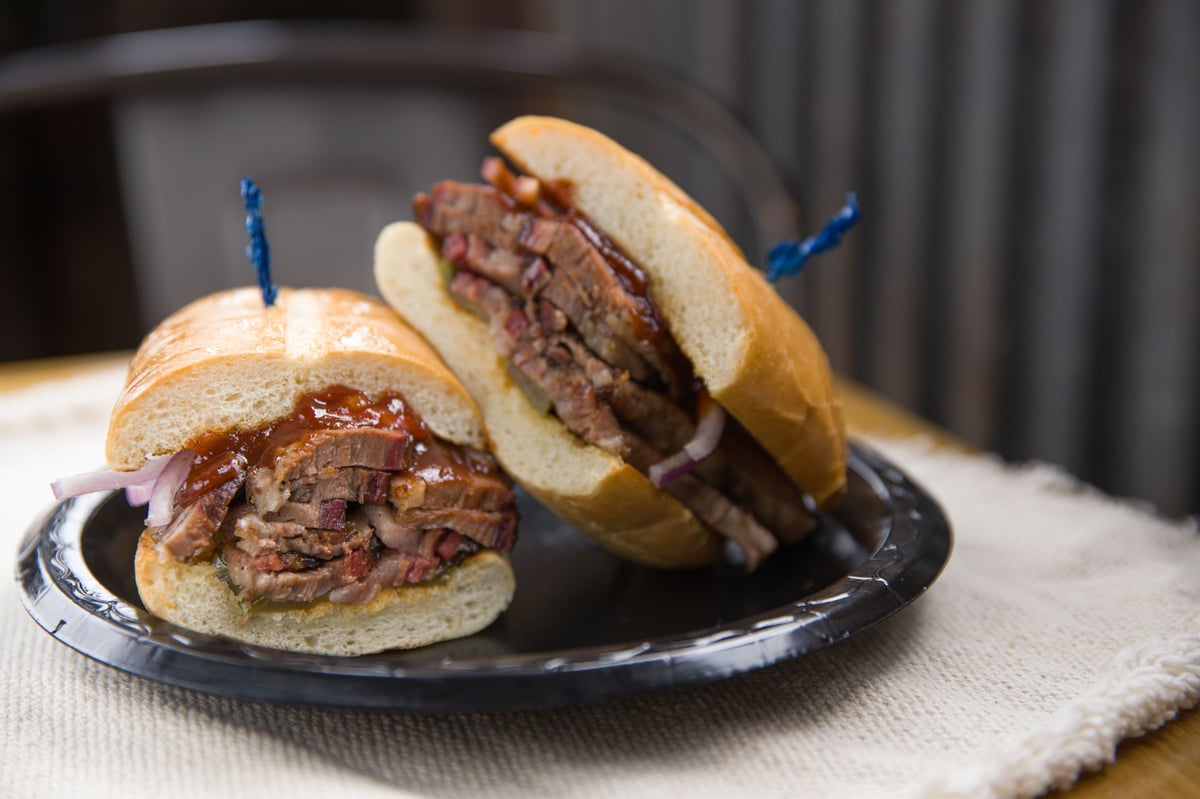 Catering
Our catering menu is just an outline of the many options that we have available for your event. We can also assist with party planning. Call for a quote today!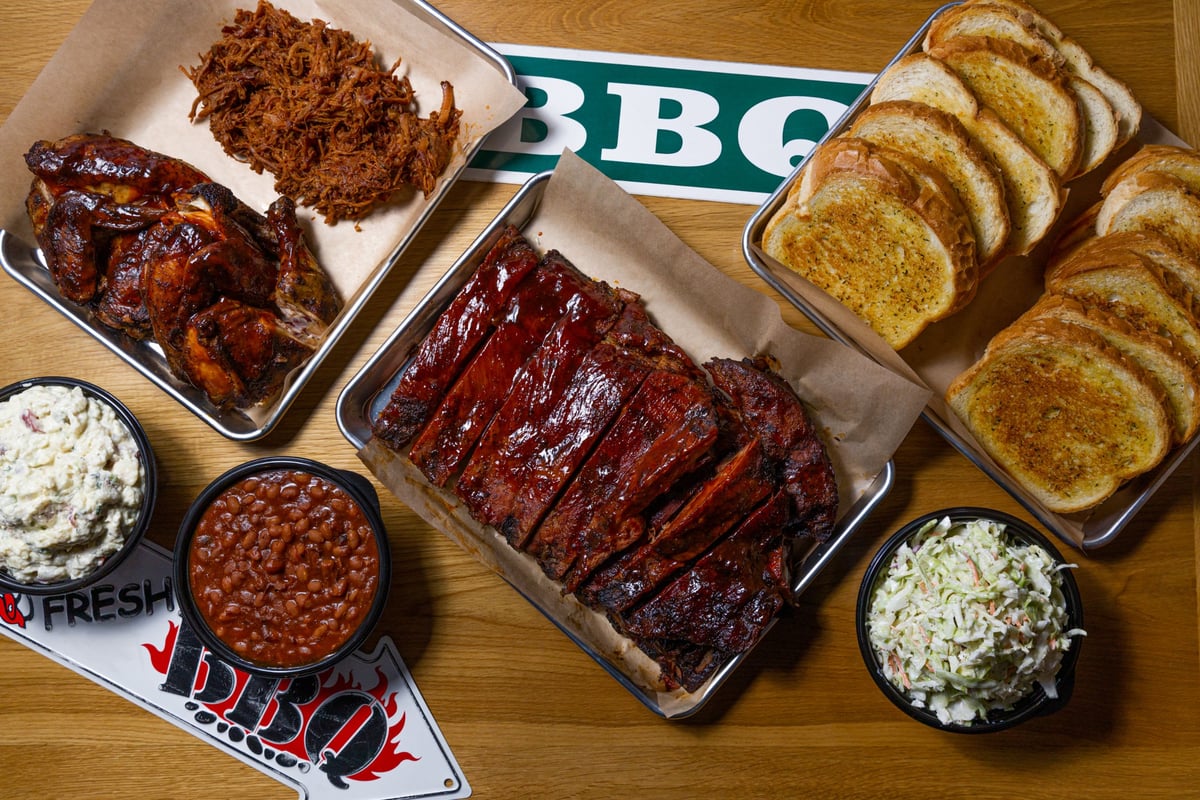 Complete Meals for Take Out
Our Complete Meals for Take Out serve four to five people and are available for pick up from our café!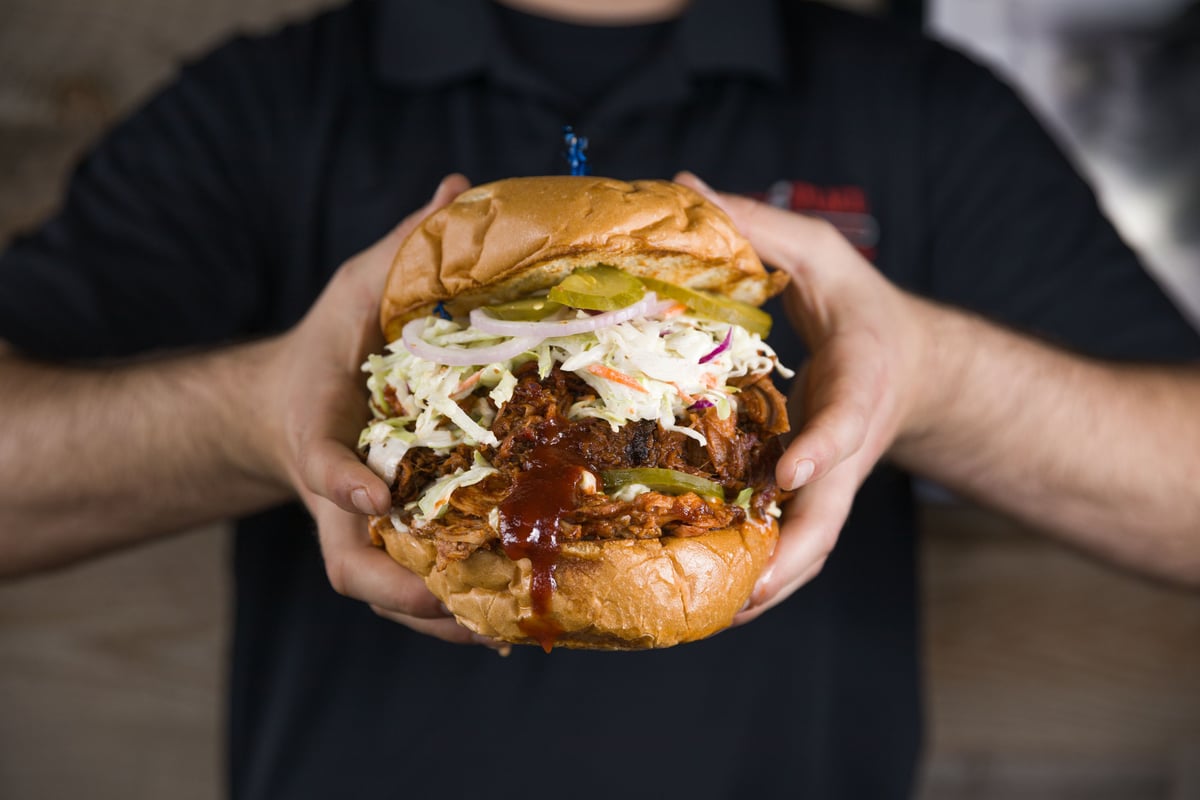 "The Beast"
Weighing in at over two and a half pounds, this sandwich is for the real BBQ enthusiast. Try the BEAST CHALLENGE! Or enjoy it at your own pace.
Anaheim
2901 E. Miraloma Ave.
Anaheim, CA 92806

Blake's Place Catering & Corporate Office
2905 E. Miraloma Ave. #3
Anaheim, CA. 92806
(714) 630-8574
Extension 3
Sunday - Thursday:
11:00 am - 7:00 pm
Friday - Saturday:
11:00 am - 8:00 pm
Father's Day:
11:00 am - 3:00 pm